Fear isn't an Excuse and
Healing can be Found
Ep. 172 with Lesley & Brad
"Focusing on the fear, holds back progress."
Show Notes
Do you need a fear bucket? If you allow the hurdles in life to keep you from the things meant for you, you may in fact, need one. Join the recap of Johanna White's episode to stop allowing fear to define your life and step into healing.
If you have any comments or questions about the Be It pod shoot us a message at [email protected]. Or leave a comment below!
And as always, if you're enjoying the show please share it with someone who you think would enjoy it as well. It is your continued support that will help us continue to help others. Thank you so much! Never miss another show by subscribing at LesleyLogan.co/subscribe.
In this episode you will learn about:
Lesley's birthday plans
Fear is not an excuse, start living your life
Where focusing on the healing, the positivity, the wins leads
Making your branding purposeful
Buy the shoes for the next you
Episode References/Links:
Transcript
Lesley Logan
Welcome to the Be It Till You See It podcast where we talk about taking messy action, knowing that perfect is boring. I'm Lesley Logan, Pilates instructor and fitness business coach. I've trained thousands of people around the world and the number one thing I see stopping people from achieving anything is self doubt. My friends, action brings clarity and it's the antidote to fear. Each week, my guests will bring Bold, Executable, Intrinsic and Targeted steps that you can use to put yourself first and Be It Till You See It. It's a practice, not a perfect. Let's get started.
—-
Lesley Logan
Welcome back to the Be It Till You See It interview recap where my co host in life, Brad and I are going to dig into the healing or differential. Oh, we get two, we have two words to choose from. You guys can actually tell me, you tell me what you thought? Is it healing or differential convo I have with Johanna White in our last episode. If you haven't yet listened to that interview, feel free to pause this now, go back and listen to that one. And then come back and join us.
Brad Crowell
Yeah, do it. What a powerful … (Lesley: I know.) I literally stopped producing the episode and just stared at the transcription as it was being read to me. And I was like, just sucked into the … (Lesley: Yeah.) Crazy.
Lesley Logan
Y'all, have to listen to it because just incredible story about like, literally having a brain tumor. And, and then she did all these things. And she kept looking for to go away. And it's, I'm a spoiler alert, it's not gone. So she's still rockin her life and doing her things. And I think it's just such a testament to that we often can take a diagnosis and like make that be our life instead of like having our life with that. Like
Brad Crowell
We were just talking about that. (Lesley: Like an end.) We were just talking about that with Claire Sparrow. (Lesley: Yeah.) Where women define, like have defined themselves like the clients that she's had. They have defined themselves by the punchbowl.
Lesley Logan
Yes. Yeah. Yeah. So I just I the pelvic floor health …
Brad Crowell
Pelvic floor. I was like, it's there (Lesley: Yeah) but it's not coming.
Lesley Logan
It's like in Rachel Roger's book. Like you can want to go on a vacation and be broke. Like you don't have to go, I'm go… I'm broke, so I can't go on a vacation. You can actually have a desire and have something in existence. You can also be an incredible human being like Johanna is and like literally slaying it when it comes to like, luxury branding. And she's got this tumor in her brain, but she's not letting that stop her from living her life. And she stays so positive and doesn't bother her anymore.
Brad Crowell
Well, before we get into it, (Lesley: Okay, so let's just …) let me out a couple of announcements going …
Lesley Logan
We got a, we got a couple things that are super tight on this. If you were listening in real time, Agency Mini number eight is starting in 10 days. So you'll hear the ad, listen to the ad, go sign up. But seriously, sign up because if you have not done Agency Mini or you've only done it one time, you can do it a second time, but it is it is a truly powerful week. And as soon as you join, the sooner you join, the sooner you get to be in the group and start preparing for the homework. So while it's a week long program, we let you be a little earlier. Getting your, getting yourself situated and set up. We're so excited about it. If you're wondering, "I'll do the next one." I really stopped doing that to yourself and your goals and your dreams and your business. Because the next one's not till the fall. And at this time of recording, I haven't set the dates yet. I'm gonna do that, but it's in the fall. Next thing, it's almost my birthday. And I'm really excited about that, because age is just a number. And I have some shirts that I've been so thrilled to wear, where it's like a tough old bird. And to me 40 years look this good. Thank you for being the Fox and I have the owner coming on to the show. She's like, "Yeah, I'll do it. What are you gonna talk about?" I'm like, "Everything that you do that I'm in love with. That's what I want." So anyways, it's almost my birthday. All right. I want to get to Johanna. But we have an audience question. Right Brad.
Brad Crowell
Yeah, yeah. So what are you doing for your birthday?
Lesley Logan
Okay, so here's the reality. We are recording this before Christmas. And my assistant is actually helping me plan my birthday. But here's what I do know, I do know, we're having a fabulous little birthday sale over on the OPC site. (Brad: Yeah) There'll be ads around that. As soon as, as soon as that's ready. I also do know that sometime in March, we're going to Mexico. I think it's a March. So that's really fun. And I'm super excited about that. And I am going to just tell my friends, "Hey, I'm going to be here if you want to come no pressure, but like I'm going to be in Mexico if you want to come." And then as far as like what I'm actually doing in Vegas for my birthday. Well, one shout out to Carrie … She is actually celebrating her birthday in Vegas. And so we're gonna actually you and I and her husband we're all going to get together in first club.
Brad Crowell
Oh, news to me, guys.(Lesley: Yeah …) That's exciting.
Lesley Logan
And we got like at 8:30 reservation, as we were told by the girls there last time we were there because we got kicked out of our table because we only be there for two hours. And we're there for two hours and 15 minutes we had to do. What do you call those trains? To to, we had to do the (Brad: conga line) the conga line, we had to do that. And then they were like, "You all have to go." Anyways, that's fine. We talked to them. I said I want to see the dancers now.
Brad Crowell
I think that was pretty good that conga line. So we definitely wasn't it wasn't because of that.
Lesley Logan
No, we were amazing. I think they realized, oh, that's the table of nine. Don't let them sit back down. They're supposed to leave now. (Brad: Yeah.) So anyways, we said, well, we want to see the dancers. And so they actually had the dancers meet us up the exits, we could take pictures, which I thought was amazing. Shout out to my mom for telling me just ask her what you want at these things. That's a long story about a concert that I got into the pit for but at any rate, we found out from them that you should 100% come after eight o'clock at night. And so even though I don't eat at like Spain time, we're gonna eat at Spain time so we can get to the best part of that show. So I'm definitely doing that. Thank you, Carrie for coming out. And then actually celebrating actually doing it with my family and friends. I'm still planning that. And I have a meeting with my amazing assistant this week because she actually has itineraries for Vegas for when people come to visit and I'm gonna (Brad: Oh, that's fun.) pick from her itineraries.
Brad Crowell
I didn't know that.
Lesley Logan
Yeah, I know. I've been working on it. So anyways, I am so sorry. You'll have to find out (Brad: Well keep up posted.) later on. We'll keep you posted. (Brad: All right.) Well, my birthday, but I am turning 40. And I'm so excited about it. Yes, you can sing happy birthday to me all month long, all month long. It's fine up until Valentine's Day.
Brad Crowell
All right. Now let's talk about Johanna White. Johanna is a woman who defied the odds, changed her mindset and overcame a brain tumor, all while building her epic branded company. She helps individuals, startups and fortune 200 brands attract their dream clients and opportunities to finally be what she calls as delightfully expensive as they deserve.
Lesley Logan
I love that. I love that so much. Yeah. Okay, let's just jump into it because we already started. One thing I loved is that she actually talked about a brain tumor survivor story. (Brad: Her survivor's story.) Yeah. Her brain tumor survivor's story. And so, and these are some questions, these are some points that she made. So how do you drown out the fear? That's so hard to do, but that is like the thing. And also, by the way, that stuff is living rent free in your brain. So unless you start charging it money, every time then you have to charge yourself money,
Brad Crowell
Tell me how we can do that. I'd like to make a profit.
Lesley Logan
Yeah, so you'll be paying yourself. (Brad: Since you can't) Yeah, since you can't
Brad Crowell
You should just kick them out. You need to evict them.
Lesley Logan
What if you had a fear bucket where you had to like put you know, people have a jar where they have to put the money if they say a cuss word obviously, we this household. We don't even have quarters, so we don't have pennies. But um, but what if you had to like, (Brad: That's interesting.) and then what if you had to donate it to a charity that you didn't like
Brad Crowell
Right because it's not yours. You don't get to keep it.
Lesley Logan
Yeah, there's a thing. There's actually apps for that like if you like say you're gonna quit smoking and then you don't like it's gonna donate money to like a political cause. You don't want (Brad: Oh, yeah, yeah.) I don't I don't actually work like that doesn't work for me. But um, but anyways, because I would be like, get in there before that thing goes up. Focus on the fear (Brad: focus on the fear) focus on the fear, holds back progress. This is so true, you cannot move forward if you're thinking about what could happen. And if you need help on that go back to Chris Goodman's podcast about fear. Choose joy in the moment.
Brad Crowell
I have comments. (Lesley: Oh) So I'm gonna jump in. (Lesley: Jump in) So, yeah, when you focus on the fear, you know, it actually paralyzes you. So there's not a chance to even think about the mindset of the future. Basically, you're, you're stuck, you are and I know this all too well, literally, I have I have, fear can be so paralyzing. I've experienced this myself. So when you're 100%, consumed by it, there's not a chance, you can think clearly and make decisions that are clear, none of that stuff.
Lesley Logan
Yeah, so um, all true things, all true. And also, we have an episode of the interview coming out that I just did today in the real time of recording this, but you won't hear it until February. Joe Casciani. He is a psychologist who works with older adults. And he's got the Living to 100 Club. And he talks a lot about how fear holds us back. And then also going into my choose joy, he literally tells a story about how like, you can be in the same room and like someone can see what's wrong with it, and someone can see what's right with it. So it's so possible to choose joy in the moment. So just just you might have to like, actually retrain your brain and how it functions. And that's really hard to do, it's really hard to retrain your behavior and how you react to things that cause fear. I know for me, like I can get like, it's not only paralyzing, but I go into a loop and a spiral of all the things that are going wrong, and then all the things are going wrong from that. And it's just like gonna keep going. And I have to like find a place to stop it. And that doesn't mean that I'm not going to have that same spiral happen. But my hope is that I stop it a little bit sooner each time. So that (Brad: Sure) maybe before it gets to like in 17 years, this is a bad. So it's going to happen if again, stop at 15 and then 14 and then 12 and 10. And I know that sounds annoying. It could be like a long time. But it's a practice not perfect. So
Brad Crowell
Yeah, I mean, you already mentioned the next things she said, which is choose joy in the moment, and happiness is a choice. And I I I found that amazing. Because it wasn't until she personally experienced like her symptoms coming back. That she was able to connect the dots when she wants, she was like, you know, woe was me and everything is crashing around me. She was really sick. And she went into the doctor's and she left and her parents friend took her out and said like, here's all the things you should be focusing on, not this fear. And she started to focus on that, and she started to get better. (Lesley: Yeah) And then she went to the doctor, and they said, "You're not better. You still have this tumor, and you know, bad things." And then she went right back to being negative again. And immediately, the second time around, immediately, all of her symptoms came back, which had been dissipating. And she put the dots together was like holy cow. This, you know, and you two talked about how powerful the mind is in here. And that to me, it's so I think that she is a stronger woman than I because and Amy Ledin too. Because being willing or needing to actually focus on the positive. I have to imagine it comes down to a need. It's like past that …
Lesley Logan
Well, it's the only way they'll survive. (Brad: Yeah.) And like maybe we all need to think about it like that. Like maybe we all need to realize that all the things that you want to have are on the other side of the sphere. And if you really actually truly realize I got really honest with yourself that you have a limited time on this planet. This is a life choice. Like if you do need to start focusing on choosing happiness. And (Brad: Yeah) like you have like we we have to stop going I'll do it tomorrow. What was me like, yeah, shit sucks. I am not having a good week right now personally, I'm be real honest. But I am my I'm finding that like as I'm trying to, like, just wallow and shit. My, my, my inner training muscle is like here, oh, this fella was really nice. And I really liked my outfit and like, all of a sudden I started and I'm like, I just want to wallow, and I cannot because I've trained you well, and I gotta get back out there and do it. So
Brad Crowell
You're talking about the limited time on the on this planet. You know, I might I can't necessarily relate to a brain tumor personally. However, I was just home visiting my parents. And it made me realize like, if I go home, on the schedule that we've been going home, which for me is one time a year and I'm halfway through my life or maybe not even not quite hopefully halfway through. I might only see my parents 40 more times in the rest of my fucking life. That is crazy to think about.
Lesley Logan
Well, and that's if they own if they live 40 more years. That's possible.
Brad Crowell
That's true. They might not live 40 more years. That's very true.
Lesley Logan
Yeah. If they listen to Joe's podcast about living to 100 it's possible.
Brad Crowell
Right. But but you know, so like when you're choosing happiness, choosing like to be intentional about how you live. And for me that realization was, I want to go home and I want to see my folks and hang with them more. And, you know, I don't want to I don't want to live there. But I do want to see them more. So yeah.
Lesley Logan
Yeah. Everything's a choice. And if the sooner you start realizing that you have a lot more choice, and I'm not gonna give it away, but there's something called embodied consciousness, embodiment, embodied. Well, it's gonna be on Joe's podcast. Anyways, I was like, I need to write up. I need to find books on this. You all it is such be it till you see it with science. Anyways, what did you … (Brad: I love that.) Yeah, what did you love?
Brad Crowell
Okay, so specifically, especially in like this really, really challenging experience that Johanna has gone through and is still going through. She gave us some pretty straightforward tools, minds, she you know, which helps with a mindset for complete healing. And she said, collect evidence for what works for you and focus on that. And that brings us straight back to Amy Ledin with her with she she has her daily cards.
Lesley Logan
Daily agreement cards, and she puts the wins every day and …
Brad Crowell
But she has a wins card. (Lesley: Yeah.) And when she's in a bad spot, she goes back and pulls out her wins card. And she really she focuses on that. So, you know, collect the evidence for what works for you and focus on that. She also said, what you believe matters. However, what you do about what you believe, matters even more. Okay. (Lesley: Yeah) So the action of like taking action on what you believe, matters even more than the belief itself. So you definitely have to start with that belief, you know, focusing on, you know, choosing what you're focusing on. But then you take action, right? (Lesley: Yeah.) And for her taking action was, she was listening to sermons and reading scripture and focusing on verses that were talking about healing from the Bible. And she started talking about anything that had to do with healing, like focusing on it. And so she would go to sleep with these planks, she would wake up, she would focus on if you dwell on the fact that healing can happen. Right. So that doing was crucial. And then finally, she said, see yourself where you're going to be, you really, really have to envision it. And she said, I, if I dwelled on the fact that if things go wrong, I could end up in a wheelchair and not be able to move, then I'm going to end up in a wheelchair and not be able to move, but I love to ride my horse. I love to run, jump and play. And I need to see myself in that way.
Lesley Logan
Yeah. Oh, y'all get those tools, write them down. They also are very helpful for beating imposter syndrome, by the way, so they work for both things.
Brad Crowell
Yeah. All right, so finally, let's talk about those BE IT action items. So she already gave us a handful action items in the in the the other conversation. But what bold, executable, intrinsic or targeted action items can we take away from your conversation with Johanna White?
So she said, make your branding purposeful. We didn't even talk about it. But she runs a branding company. And she, like, did some amazing things with her company. She started landing clients that were massive, like Google, all this crazy stuff. And, you know, she literally charges like $50,000 to build a website. That includes like going through your branding, doing all this amazing stuff. And she specifically said, branding is happening all the time whether you do it on purpose, or it's happening by accident. (Lesley: same as goals) Right? So it's happening, it's either happening for you. And you're building those perceptions on purpose or it's happening to you. So don't let it happen by default, instead make it happen by design. And I thought that was crazy powerful, like, you know, we, when it comes to, you know, just getting the door like getting started. We always tell people, you don't need branding to open the business and get like the ball rolling. But you there there does come a point where you want to begin to focus on that and get that going because just like she said, branding will happen by default. You should make it happen by design.
Lesley Logan
Yeah, well, I think that's going because a lot of people, because they're actually afraid to get rejected and putting their stuff out there. So they just noodle around on branding. And they're like, look at me, I'm taking so much action because I'm picking my colors, and I'm picking my font. And the reality is, is that like, that's going to all change. (Brad: Yeah.) So get something done, and then have some consistency. But as you start to interact with people in your business, and in your life, you're going to go, "Oh, wow, the people that I work with really resonate and as this kind of person so these are the fonts or these are the colors." And Hilary Hartling who is on our pod. She actually said like branding is actually how you make people feel. So like you can go off of that in the beginning and then and then hire someone like Johanna to make you delightfully, look as delightful expensive as you deserve. And so I agree like whether it's your branding or insert goals there if you don't, if you actually don't set goals for yourself, other people set them for you, if you don't brand yourself, other people brand for you …
Brad Crowell
If you don't host your party, someone else will host it for you.
Lesley Logan
Yes, I need to get that guest. I need that author with to put her on the list. It's called The Art of Gathering and I know you're hearing this after Christmas and you're like, Thanks Lesley for not telling me this earlier." Such a fucking great book. Free something. Anyways, it is something that I think about in all of my memberships and how I do everything, but it's also how you do dinner parties. Like she's got great advice on there. So anyways, just like that … for you.
Brad Crowell
So, so, so, okay, your turn. Take, take it away.
Lesley Logan
Okay, of course I love this one. I mean, I mean, we knew I was claiming this, the moment she said it. Buy the shoes. Buy the shoes for the next you and then wear them. And so this is really important because I would see women, so I work in retail I'd see women buy these things for this future person they wanted to be and then they put it on a shelf. Just put it on a shelf, (Brad: Right) as if your future you could just jump off the shelf one day, it's not Tinkerbell, y'all. You have to put, you will actually act as if you are the person who wears those shoes if you put them on. So I 1,000% bought the purse that I felt was too expensive for me. I went 1,000% bought the Lululemons and the things like that to be seen as the person that the teacher I wanted to be, the teacher who made this kind of money. Also, I'm not saying charge of your credit card. I had a capsule wardrobe. I recycled that but don't don't buy the thing and then put it on the shelf to look at Alan Stein Jr. is like we're never finished. We are not meant to be in a museum. You put that stuff on a shelf, you're putting your future you in like a museum thing. And that's not going to work for you.
Brad Crowell
Yeah, so I love this because she had you know, when the brain tumor situation happened, it made her reevaluate everything in her life. And she said, you know what I might, I don't want to wait, I'm not going to put that stuff on the shelf. I'm going to wear it. I'm going to use it. In fact, she said she took three months off from trying to get clients and doing anything. And she treated herself like her own client. And she said, so she went out and bought a bracelet, went out and bought shoes, went out and bought a purse. She did her nails, she went and did this epic photoshoot where she literally dripped her her business card in gold. And then like they flung gold all, all over the photoshoot studio. And she decided to build her site as if she was building one for her client. Right. And then present herself to people in the way that her clients are. So she could basically put herself in the caliber of the clients that she wanted to attract. And they would see her and go, "Oh, you get me. You get me." So … (Lesley: Look at that Google guy.) That's what I'm saying. No, it's it's amazing. She this story she had was she was at a coffee shop. Very shortly after the photoshoot. She had the her card. And he came up and ask her like, "Hey, can I borrow your laptop charger? Mine's gonna die." She said, "Sure." 30 minutes later, he comes back and he says, "Hey, what do you do?" And she gave her card to him. He looked at it and he ran over his computer type of stuff and literally came running back he said, "I love what you do. And you you need to come work for me. I need you to work on this project. What you're doing is amazing." And and it was a guy who works for Google.
Lesley Logan
Yeah. Yeah. So you know buy the shoes, put them on. Wear, be that person like these are things that some of us have like some people can do it the mind, some people need more physical kinesthetic way of being it till they see it and it doesn't matter which one you are and it's really going to be an amazing year for you the more you do this. Thank you Johanna White for like sharing your story with us. (Brad: Yeah.) I truly inspiring our listeners. I was inspired. (Brad: I mean, I …) My favorite shoes to the shoe repair to get them sold because I was like, "I bought the shoes and I'm not wearing them because they need to be resold." So we got to go do that right now so I can have them for my trip so I can be that person on my tour who wears those shoes.
Brad Crowell
I know. Yeah. I mean, you know, I'm pretty shit at this. I'm like, not good at buying, like the fancy thing I have … (Lesley: No, I buy them for you.) I never have allowed myself to ever do that. So this is a challenge. And …
Lesley Logan
They just gonna want to know if you did it.
Brad Crowell
Well, I haven't even I don't even though what I want to buy, so I'm gonna figure that out first, and then I'm gonna go buy something. So
Lesley Logan
Y'all if that's if you're in the same position as Brad, you actually owe it to yourself to spend a lot of time with yourself thinking about that, because that is that's actually a sign that we have to like, get … We've maybe achieved all the goals. And now you got to set new ones. Yeah. (Brad: I'm in.) I'm Lesley Logan.
Brad Crowell
And I'm Brad Crowell.
Lesley Logan
Thank you so much for joining us today. How are you going to use these tips in your life? Let us know, send us a DM for the pod, tag Johanna White, tag us and and share with us and if you're like, "I have no idea how to tag." That's fine. You can literally grab your friend's phone, and you can find our show on the podcast app that they use. And you can download it for them. And you can say here I mean, I would love to know your takeaways because that would help with my love, my love language of words of affirmation, but it's fine. However you get this into people's ears is all that matters to us.
Brad Crowell
If you want to contact us. You can hit us up on Instagram, send us a DM or you can email us, email us at [email protected].
Lesley Logan
Yeah, notice that at email that is the correct one. (Brad: [email protected]) If you send one to the other ones that I've mentioned, they're not true. Anyways, perfect is boring. Love you all so much. See you later.
Brad Crowell
Bye for now.
—
Lesley Logan
That's all I've got for this episode of the Be It Till You See It podcast. One thing that would help both myself and future listeners is for you to rate this show and leave a review. And, follow or subscribe for free wherever you listen to podcasts. Also, make sure to introduce yourself over on IG at the @be_it_pod on Instagram. I would love to know more about you. Share this episode with whoever you think needs to hear it. Help us help others to BE IT TILL YOU SEE IT. Have an awesome day!
—
Lesley Logan
'Be It Till You See It' is a production of 'Bloom Podcast Network'.
Brad Crowell
It's written, produced, filmed and recorded by your host, Lesley Logan and me, Brad Crowell. Our Associate Producer is Amanda Frattarelli.
Lesley Logan
Kevin Perez at Disenyo handles all of our audio editing.
Brad Crowell
Our theme music is by Ali at APEX Production Music. And our branding by designer and artist, Gianfranco Cioffi.
Lesley Logan
Special thanks to our designer Mesh Herico for creating all of our visuals, (which you can't see because this is a podcast) and our digital producer, Jay Pedroso for editing all the video each week, so you can.
Brad Crowell
And to Angelina Herico for transcribing each episode, so you can find it on our website. And finally to Meridith Crowell for keeping us all on point and on time.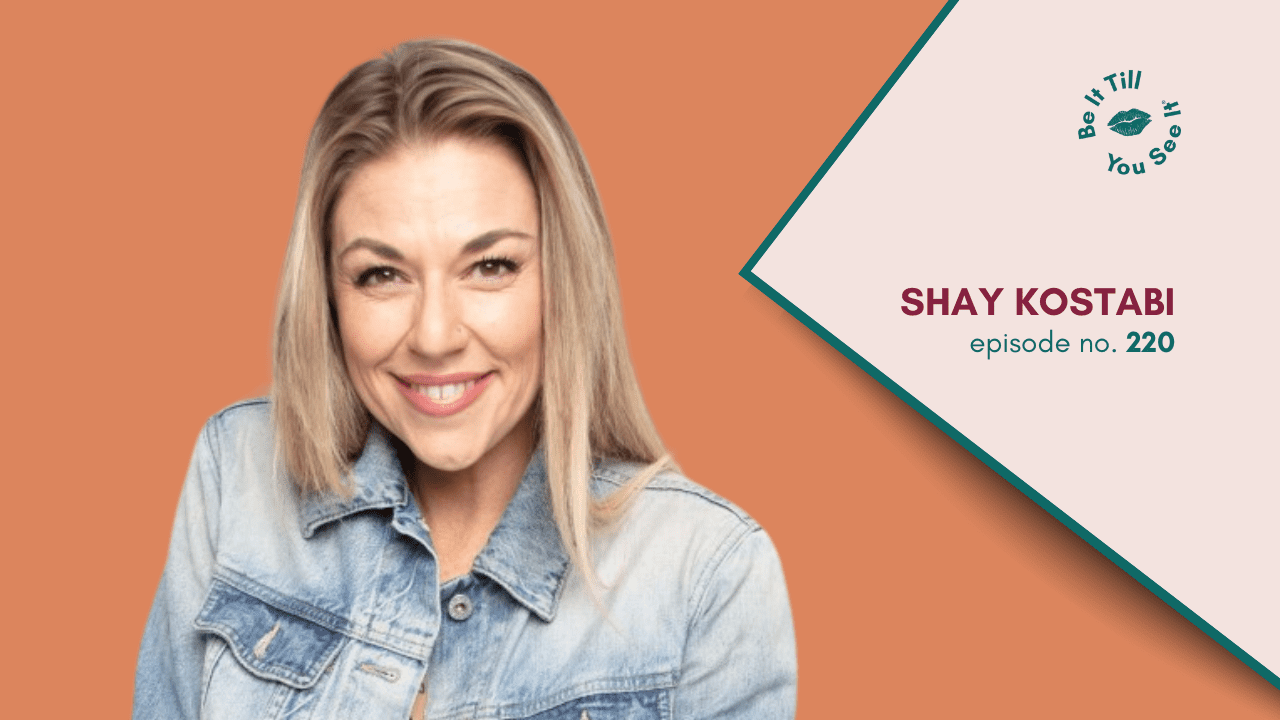 In this insightful episode, Shay unravels the importance of consistency and persona development, and brand building. She delves into the concept of flow states, showcasing its essential role in cra...