How to Use Feelings for
Life Changing Navigation
Ep. 165 with Stacy McAlpine
"If it doesn't make an impact, then it's just taking away from my ability to do it."
My name is Stacy McAlpine, and I am on a mission to support the millions living lives full of "shoulds" shift into lives they truly love waking up to! That mission includes not only expanding the reach of my own organization's life-transforming programs, but also helping others with aligned missions expand their reach and impact for THEIR clients who want to help people with using their own specialties (such as you if we are a fit!)
You can see from my bio that I have a background in consulting and, along the way, created a methodology that applies the industry-leading, proven project and change management methods I used to deliver transformational results to some of the largest organizations on the planet, to individuals in their own personal lives!
I cultivated these methods when I was on my own journey of trying to survive an inauthentic life with overwhelming stress and mental overload. My transformation happened when I connected what I was doing for my clients with what millions of us as individuals needed in our own lives but weren't getting from traditional methods in the market — the application of the standard, repeatable, proven, reliable, trusted methods and techniques used to make organizational change, applied to our everyday, individual life journeys.
Once I discovered the missing link between desired change and actualized change for individuals, I "systematized" my methods and have been on a mission ever since to share them with the millions of others out there who need a lifeline and save them the decades it took me to try and crack the code without them.
Show Notes
How do you take a great idea and apply it to your life? How do you get through the seasons of overwhelm and find your clarity amongst it? Stacy McAlpine is joining the podcast today to share her story of choosing peace over overwhelm, taking great risks, to find greater rewards. The way that she overcame is accessible to you! Listen to find the principles to wake up to the life you love.
If you have any comments or questions about the Be It pod shoot us a message at [email protected]. Or leave a comment below!
And as always, if you're enjoying the show please share it with someone who you think would enjoy it as well. It is your continued support that will help us continue to help others. Thank you so much! Never miss another show by subscribing at LesleyLogan.co/subscribe.
In this episode you will learn about:
How you get through the transitions of stress
What to do in the space of overwhelm
Your life can be different! Choose to make a change.
How to get clarity to make major change in your life
The value in the 'should test'
How to access your feelings and create the capacity for change
Episode References/Links:
Transcript
INTRODUCTION
Lesley Logan
All right. Be It babes, welcome. Wow, this is an exciting time, isn't it? I'm so, I'm so excited about this time of year. It's actually one of my favorite, favorite times for so many reasons. Anyways, today's guest I'm excited for you hear her story, it is a journey. It is, it's got lots of twists and turns. And also she's walking her talk. And I, and I think it's important to hear that you're not alone. And taking two steps forward and a step backwards that people it happens to us all the time. And then also that there's other ways of doing it. And I really, I really think you're going to enjoy this. There's a lovely free gift at the end. So make sure you check that out, check our guests out. And I also you know, you know, I love the BE IT action items. But I really love this one. I think it is something you can simply do right now while you're listening this podcast, while you're walking your dog or in your car. So so as she asked those BE IT action questions that she poses I want you to you know, maybe hit pause and like answer it and then like play and then and pause and then until you get there. Our guests this week is Stacy McAlpine. And she has an incredible career like, I'm not kidding. And then also what she is doing now and I think it is just so awesome to see that there are so many possibilities if you are wanting to change your life and change what you're doing. I know you might feel like there's all these obstacles in the way but there are things that are allowed, that will allow you to be able to do it. And there's not a lot stopping you but maybe you and your ability to have clarity and possibility in your life and so I hope Stacy's story inspires you. So after this quick break, you'll hear from Stacy McAlpine.
—-
Lesley Logan
Welcome to the Be It Till You See It podcast where we talk about taking messy action, knowing that perfect is boring. I'm Lesley Logan, Pilates instructor and fitness business coach. I've trained thousands of people around the world and the number one thing I see stopping people from achieving anything is self doubt. My friends, action brings clarity and it's the antidote to fear. Each week, my guests will bring Bold, Executable, Intrinsic and Targeted steps that you can use to put yourself first and Be It Till You See It. It's a practice, not a perfect. Let's get started.
—-
EPISODE
Lesley Logan
All right, Be It babes. I'm really excited. I have a wonderful woman for you to to learn from today, Stacy McAlpine. And, you know what I love so much about this podcast is I get to meet so many new people that I probably may never have met in real life. And so Stacy, one of those people that I feel like our paths would have crossed across eventually, but I'm glad they're crossing here. Can you tell everyone who you are and what you're up to?
Stacy McAlpine
Absolutely. Thank you so much. I love doing this. It's so fun, because I can meet your audience a little bit. So hello, my name is Stacy McAlpine. My background is, I was in consulting for 20 years. Every time I do one of these, I'm like, I say 20 years and then years go by so probably more than 20 years. So but at a minimum, it's been at least 20 years of consulting for big four consulting firms. So PricewaterhouseCoopers, Ernst & Young and those types of firms. And my clients were some of the biggest organizations on the planet. So think Department of Defense, Google, you know, those big government organizations, and my specialty was all about project management, process improvement, and change management. And to do whether you're changing an organization of 250,000 people, or an individual of one, it all takes individual action. So the bigger ones, like you're trying to get individuals to take action, not just a giant group of people. And so through that process, what I realized because also being my big personal development nerd, which I think maybe your audience can associate with … (Lesley: 100%) perfectionist maybe, perfectionismitis. But so you know, when just always love learning about how to be my better self or how to, like not hate my life. And so bcause that was easy to do back then. I mean, I was working 50 to 60 hour weeks, you know, there was a time when I was doing all this for my clients. But my life sucked. So you know, thinking my laws… my husband was in law school at the time, full time. I was living in the DC area with an hour and a half, one way commute with fun traffic. I had a stepdaughter in high school, I had a child, one child that kept calling me grandma, because she saw my mom more than she saw me, you know, racking up the credit card debt because we were living on one income. So (Lesley: Yeah) I had night literally $98,000 and credit card debt. Last and upside down mortgage, plus racking up a $200,000 law school loan. So I was a little stressed.
Lesley Logan
I was gonna say before hearing all of that I was like, this job sounds so stressful. Because (Stacy: Yeah) like, these aren't, these aren't like, I'm not that you would ever just like, "Oh, so easy to consult." But like those are like the the things that those people put out into the world affect (Stacy: Oh yeah) millions of people.
Stacy McAlpine
Yes. And I love and love, I'm glad you mentioned that because I loved that about what I was doing the clients that I was working with my boss at the time, he's completely changed my life. Amazing human being. I followed him to three different companies every time he left, I'm like, "Don't leave me. I want to work for you. You work for people, not companies." (Lesley: Yeah.) So but he was always talking about being tip of the spear, you know, touching the mission. And so, you know, and I'm looking at working with Homeland Security and helping people not blow up on a plane. (Lesley: Right.) Yeah, when I'm working with the Department of Defense, I was working with military health on Psychological Health and Traumatic Brain Injury Center of Excellence, like the biggest longest sentence of all time. But the Department of Defense and then Veteran Affairs had a joint initiative to build the Center of Excellence to help the military recover from PTSD and psychological health is as well as how do you become more resilient? And how do you help people? So it's like, I'm working with these people.
Lesley Logan
Yeah. So like, each project was like, hugely impactful or needed to be for many people. So that's a level of stress. And so you're going in and you're like so focused on these things, but then your life out behind is like, (Stacy: Yeah) kind of needing a it's needing a reboot of some kind, it's needing some support, (Stacy: Yes) because that's hard because, well, I mean, I think a lot of people listening can all relate to having one income at some point, like my husband and I, there was a time when he was switching careers. So it was on my business only and then, you know, and then he had his his income started up again. And then we decided, "Let's just all go in on my thing." So then we're back on like, this thing. And those transitions themselves are big decisions and can weigh a lot on your mind. Yeah.
Stacy McAlpine
Oh, yeah, absolutely. And so you know, that that pressure was heavy. And I would like literally wake up crying, like hating my life thinking like, there is no light at the end of this tunnel. Where's this light? How do you make up $90,000? in credit card debt? How do you pay an update on mortgage? How do you survive a career like mine? Like if I left, you know, the salary without pressure is, you know, it's a good salary. So, if I were to leave that profession, I would be taking a huge pay cut. So I couldn't afford to do that, either. You know, and I figured, well, if I leave, in order to match my salary, it's going to be just as stressful job. Like, who pays people this when that's no stress, right? Like, (Lesley: Right) that's how that works. And I never really felt like I was making as much as I was because it was all going to debt. So like, I never felt like, (Lesley: Yeah) so it just was like that. So frustrating to know that you're making a good income yet you're like, literally poor, literally, like checking the gas tank and hoping that …
Lesley Logan
Yeah. is it enough to get me there. Yeah.
Stacy McAlpine
But so with that I was in a space of overwhelm. And yet I was getting all this change for my clients. And something that there's just a big void in the personal development space of how do you actually implement it? (Lesley: Yes) Right. So there's a lot of motivation, a lot of inspiration, a lot of like, really cool ideas. And totally legit that work. (Lesley: Yeah.) But when you're in a state of overwhelm when your life is like, if somebody asks me one more thing, I might punch them in the face because I can't handle my emotions right now.
Lesley Logan
I feel like every mom listening is like, yeah, I would like if my kids say (Stacy: Oh yeah.) … and one more time. So yes, I'm with you (Stacy: Right) because it's true. Like, I'll, I'll hear these amazing affirmations or, or quotes or like ideas or theories. And it's like, yes, and then that's why we have BE IT action items at the end of the show. And then what do I do? How do I do it? (Stacy: Exactly) … this into my already crazy stuck, (Stacy: Yeah) overwhelmed life but …
Stacy McAlpine
Yeah. 100%. And it's like, did you ever seen, what is that? It's like a movie with the moms like not badass mom. What is the call….
Lesley Logan
The Bad Moms? The Bad Moms. (Stacy: Bad Moms) Yeah. Yeah.
Stacy McAlpine
It might as well be badass. Right? (Lesley: Yeah) But Bad Moms, you know when where, the woman? What's her name? Kristen?
Lesley Logan
Christina Applegate or
Stacy McAlpine
Yes, thank you. Yes. No, the other girl. Anyway, (Lesley: The other one.) that's in there, who I love. She is going to bug me now and have to … It will happen. Anyway. So she was like talking about wanting to be in the hospital as a break. Like I literally was jealous of Martha Stewart. Thought, "Oh my god, if I go to jail, I could, like have time, I could process my ideas." You know, I was driving around the parking lot trying to find a parking spot at the post office. And I told my kids, I'm like, "You're gonna have to tell the kids at school that your mom is in a mental hospital because she couldn't find a parking spot because I was like, losing my mind." That was … (Lesley: Right.) So this is who I was for my kids, right? And it's like, I don't even want my kids to be like me, like plus, they're not even gonna know who I am. Like, how do they even this is not the (Lesley: No) person that I want them to think that I am like, how do you have a relationship …
Lesley Logan
They're calling you grandma. They think that you're gonna go crazy in a parking lot. (Stacy: Yeah) They never see you. And then when they do see you there's no money or time for anything. So (Stacy: Right) what fun is that?
Stacy McAlpine
You know what interesting? So my stepdaughter, so my husband at the time was in law school, I was working my ass off, like totally a disaster stressful. We didn't have much money even though we were you know, pursuing all these dreams. And she actually she was screwing up her grades like major. It's like really hard to have that bad of grades. And you have to try to get right. And so we're like, "What is your deal? Like, literally, all you have to do is turn in the piece of paper and circle one thing and you'd have better grades." Right? And she's like, "You know, I just don't want to work as hard as you guys. Like, I don't ever want to what's the point? Like, I don't want to have a life like that. So what's the point? I'd rather it is not like what's the point of school? That's what it does to you." And it's like, whoa, that's intense, right? I'm thinking were follow… He's following his dream. And maybe it's like this great example and it literally demotivated her so much that she didn't even want to deal with school. We could just like, what's the point? I don't like it. You guys are doing a bunch of stuff you don't like. So … (Lesley: Yeah) Interesting, right? So that ripple effect.
Lesley Logan
Well, I mean, actions are caught not taught and like, and like here you are like you have a job that is super impactful. Again, like all the things that you're consulting on are really supposed to be life changing for the better. (Stacy: Yeah.) And yet, they're what they're seeing is, oh, if I do well at school, I get to work too hard, be stressed out, have no money, have no time and want to go into a mental hospital after I've crashed my car into the post office so that I can find a parking space. (Stacy: Yeah. Exactly.) So how did you go from like, "Gosh, I we do want to follow up on how her grades are." But how did you go from like that, to like, what you're doing now? What was that, what what was the breaking point was at the post office parking lot?
Stacy McAlpine
Right. Well, it was one when like, I literally threw my Blackberry across the car once which Blackberry, you know … But I just like, "Who the hell am I right now?" Like, "Who am I?" And something had to change and I have a longer story that we aren't going to have time for of like what my real moment moment was. But it all comes down to you know, I was in a nutshell, I was at a mall of all places. Like when there were malls that you like, walked around in (Lesley: Yeah) purpose.
Lesley Logan
Yeah, I have anxiety attack walking around and realize I need to change my life.
Stacy McAlpine
I know, right? And it's like my friend at the time she was and that was like snapping at my kid was just being cute and skipping around. And she's like, "Something needs to change." And I'm like a hot tip. Thanks. Like, I didn't know that, you know, but she cared like, you could tell she cared. She's like, you are just implode, like, you can't keep going like this. It's just killing you. And you know, when you hear something at the exact right time, because sort of like somebody's saying, How are you doing? Like, bawling your head off because they just triggered the tears because they asked you how you're doing? (Lesley: Yeah) It's not like I didn't know. It's not like I you know, it wasn't this news. Oh my God, I didn't know that. But so she tells me this and I'm thinking, yeah, I know. But I don't know how to get out of it. I'm getting into my minivan strapping my daughter into the car seat hoping she falls asleep. And the music that comes on is this hallmark CD, which is I don't know if you've ever heard them I've been trying to find that I can't find it's called like a drive in the country or until it's this happy, lovely, peaceful music. And it's what I used to listen to when I was dating my husband where we were just having this amazing time. And I could not connect, like there was zero emotion like there was no happiness at all. It was just numb. Then I just started bawling like snot bawling, you know, not just crying like my …
Lesley Logan
Like you like a girl who should be in a Hallmark movie of some kind before the (Stacy: Yeah) before the story gets to the happy ending.
Stacy McAlpine
… So I'm thinking only God that that was a big moment for part of my like, what changed kind of thing. It was just, I can't keep doing this. And then I'm watching this movie called Flicka, whichever have you ever heard is about this horse and this teenager and Tim McGraw's in it. And this teenager, like builds this relationship with this horse, and they're kind of broken souls healing one another, right? Um, no one had a Blackberry. Nobody had a laptop open, except, you know, Tim McGraw was like counting the numbers for the farm, you know, so there's stress, and you know, it's a movie, but it's like, other people do different things. But there's other careers. (Lesley: Yeah) Other things, people do that. And then you can start, you know, when you really think about it, like, there are people that run oil rigs, like there are people that are on TV, like they're so different lives are so different. And I just realized I had this moment of, I've done this to myself. I did this, it's not like some victim, like, I chose to support my husband to go to law school. I chose to have this kid, I chose this crazy career, you know, I did this. And I need to get my way out, like I have to do something different. There are other things on the planet that could possibly be happening, right. And so that really triggered it. And then I was thinking about my clients. And I'm like, "Well, why the hell can I change if I'm helping these people like huge organizations? It's like turning the Titanic literally to get any government change. And it's working. So why can't I get that …"
Lesley Logan
That you can turn governmental programs around, I think you've (Stacy: Rgiht) can turn your life around.
Stacy McAlpine
Exactly. So like, what am I missing? And so what I ended up doing was taking the stuff that I had been learning and personal development like Tony Robbins stuff, you know, all the things that you know, personal power and listening to them when you get clear on stuff, but then there's no implementation. So I used what was out there to get some clarity but then I started bringing in the change management process and the project management tools and business process improvement. That's like applying that to my life.
Lesley Logan
So you're taking the tools that you already use, and changing individuals and organizations (Stacy: Yeah) and you're like, "I'm just gonna take what I already do, and I'm just gonna do it to me. And my, my life. This is amazing. (Stacy: Right) Yeah. Okay.
Stacy McAlpine
Yeah. So I'm like, I'm gonna pretend I'm a client. And so I started doing that. And it just, like, changed everything, like everything, because in project management, what your purpose is, is to help your clients get clarity of what is the outcome that you actually want? A lot of project managers come in and are like, oh, what do you want? I want to implement a new system. But why? Like, why do you want it? Is it just because you want new technology? Because it's old? Or is it because you want to be able to enable your team to make a bigger impact by processing this faster to get money to these people faster? So they can be out in the field and not get killed by bullet … (Lesley: Right) You know, like, you could (Lesley: Yeah) draw the threat, you know, pull that thread, and it's like, what is it that? What is it really, that your outcome is? And once you know the outcome that you want, then you can start to say, Okay, so what's it going to take to get that outcome? Like, what are the things that you know, if you were to do these things would make that happen? And then you can get into Okay, well, how do you know when you're gonna get those? Like, how can you measure? Yes, I am or not, and you get that? And then you can say, Okay, so now we know where we're going. Now we know what it is that is going to give us the indicators that we're on the right path. So how do we resource this? Who do you need to have? What kind of resources do you need to get there, and then map it out, create the plan, build it out, and then all you have to do is walk the plan. So we do that within the first month of the, you know, year long project, and then you're just working the plan. And so that's what I do for individuals. It's like, how do I help you get so clear, using change management principles, using project management techniques, on what it is that you really want your life to be about, and your impact? And how do you want life to feel? (Lesley: Yeah) And then work that process, right. And then we map out so I have a program called love and life accelerator, which is taking the stuff that we do in my foundational program, which is called Walk-The-Talk Weekends, it's a two and a half day program where you really get that clarity. You get (Lesley: Yeah) what is that out… helping people get that? It's like, oh, go get clarity. No, I help you. (Lesley: Yeah) You've walk through that? Right. So (Lesley: Yeah. I love this …) there's implementation.
Lesley Logan
So this is okay. So, so I love this. We have a project manager on our team and like, some I have a love hate because I'm like, "I wanted this thing." And they're like, "Okay, let's have a meeting." I'm like, "… do the thing. I just want to go. (Stacy: Yeah, exactly.) Let me do my thing." And they're like, no, actually, when, you know, like, what's the outcome? Why are we doing this? Who is that for? (Stacy: Yeah) … of them process? Who who's involved? All the things. But what ends up happening is that everyone knows their role, and everyone can do the thing, and no one is falling it like off the plan. And then you get to the outcome, and you have something's totally different. So it's amazing. So can we so you did this for yourself? And so how long did it take for you to put the principles on your own life? And then how long did it take you? Like, did you get out of the debt to do? Did your … did your partner get out of college? Like what happened to help you (Stacy: Yeah) not for your BlackBerry anymore.
Stacy McAlpine
Right. Yeah. So it was not like an overnight fix, right. But it was the beginning of once the if I did my principles, my values with the Tony Robbins thing, then I started putting it into the pieces that I just talked about, you know, and that's like, I don't know, I guess you could maybe call it a month, I don't remember like my life was so you know like, I don't remember the timeline. But it was over the course of those next few months, when I say, here's the thing, you don't have to have the outcome, to have your life change. You want to know what the outcome is, and have a trusted system, a trusted method that, you know, when you do it, it works. So that gives you this sense of security and this relief. Now, so you have to …
Lesley Logan
That's brilliant. I hope everyone just heard that because it's like, it's so many people are waiting for the outcome to happen to feel the change. But you, you have you know what the outcome is, you know, you put the tools in place, and so you can actually feel the effects of that now. It's like the light at the end of the tunnel. It's not a train. It really is there. (Stacy: Yeah) Yeah. Okay. I love that. I love that. So so you did that. And then and then you started to feel those effects of it. And then how long was did you leave? Are you still consulting? Like what …
Stacy McAlpine
Yeah. So what, the fastest version of the story is basically I ended up trying to quit my job. And my boss was like, I was about to make directors six months from director which is not an easy thing to do in consulting. It's a very flat organization. So you go from if you go from manager to Director, they're expecting that you're going to be potentially a partner. So it's like a big vetting thing, right. So I was six months away from when that was going to happen. It gives my resignation because I got all this clarity that this sucks. I'm not doing this and actually what's good was I had a job waiting for me with Homeland, I was gonna give up all this maternity leaves like, I'll figure this out, right? I'll find a way. And so had that as a backup plan gave my notice. And he's like, what if you could work 40 hour weeks, two days a week from home? I'm like, you get fired? Who are you? And why are you saying this? (Lesley: Yeah) And he's like, well, but I, you know, I think you can do it. And I'm like, name one manager and a big four consulting firm and your entire time in this industry that's ever made director working 40 hour weeks, two days a week from home like name one. (Lesley: Yeah) And he looks away. Then then he looks back. He's like, "I think you can do it." Me, the only person on the planet can do it. So the here's the deal is that I had the backup job, right? So I said, "Will you hold my job for six months. And I'll do this whole 40 hour, two days a week thing from home. And if it doesn't work out, I've got a job in six months if I don't make director." (Lesley: Yeah) So that's what I ended up doing. And I ended up working 40 hour weeks, two days a week from home and making director at a big four consulting firm. And what it all came down to was getting clear on what is it that matters? And what doesn't, what am I getting measured on? And what doesn't? What is all this? I don't need to do all this stuff? Because he said, your do you do too much. That's what he said to me on that when he said you do too much. I was like, like might this, you know, moment of well Yeah, probably I do. Right. So what is the too much? What is the stuff that I'm doing that doesn't matter? So that's where when you get really clear on what matters most in applying the techniques that I teach in my programs, which is what are your core seven things that matter most in your planet? And what are the things you're doing that don't line up? And so you can do the same thing with your profession, right? So if you're at work, and you're doing a bunch of stuff, and you need this visibility, you need all this stuff but really do you. Like what are you measured on? What do you need to do in order to achieve those measures? Because like in consulting, if you hit your numbers, that's what it's about. (Lesley: Right) Don't hit your numbers, you're kind of screwed. But what do I need to do to hit my numbers? And what do I need to do to be able to hit all these other things that are going to be the differentiator between making it or not, and everything else I stopped doing? Because if it doesn't make an impact, then it's just taking me away from my ability to do it. And …
Lesley Logan
Yeah, it's almost an ego thing. You're doing it to show that I can do this and like a control thing. These are great questions. I hope you all if you didn't write them down, and she said them rewind and write them down. Because you can ask this of yourself in all areas. But (Stacy: Yeah) not just your work life. Yeah.
Stacy McAlpine
Yeah. So I ended up staying, I did that whole thing. And then ultimately, I still ended up getting a new boss who was not a nice, even, and didn't support that work arrangement, even though it was making my number. So I ended up going out on my own as an independent consultant. And making three times my salary. I paid off my debt in a year. (Lesley: Wow) Because I was getting my full bill rate. Right? (Lesley: Yeah) So, working for my old client. So it's a matter of okay, what can you do with what you have, that's possible that can still help you achieve what you want, right. And so that's what I ended up doing. And that's how I paid off my debt. And that's how I ended up being able to take the next step of, you know, what do I want to do next, I ended up going back into consulting again, because my husband at the time, was getting himself fired. And so I knew I needed a job that had benefits. So I kind of had to give up on what I was going to do to help other people implement. (Lesley: Yeah) So I did consulting for another seven years, but then what happened was, I was getting miserable again. I was doing all the same things with not without the support that I knew I needed to be successful. I hated my job. I was crying and I'm like, "Okay, this is not me living what I just got out of that other place for." Right and so (Lesley: Yeah) it's okay, what can I do? And it turned into I ended up being able to start my own company Journey Fuel, where now I'm helping people I went out on my own 1099 consultant, so I wouldn't have all the pressure of that job. (Lesley: Yeah) … not on my own 40 hour weeks doing like, the most easy stuff. Like oh my God, I'm doing visio charts right now. This is amazing. (lesley: Yeah) I didn't have 93 hats. I didn't have people not supporting me, I didn't have the you know, proposals. It was just a different life. So I went on my own. And while I went on my own with that, I started building Journey Fuel, which is what I do now, which is helping people live lives, they love waking up to using the tools and techniques that are missing in the personal development space, which is how do you go from knowing to doing. (Lesley: Yeah) Like how do you go from you know, it's great idea to actually applying it into your own life.
Lesley Logan
Thank you for sharing that like you've had like you had to go back to go forward because I think a lot of people get really frustrated with themselves when that happens and it happens to all of us. Right. Like I, like I remember I was in a job that that gave me anxiety. And so then I quit that to just do what I was passionate about and I was loving it. And then I, for insurance reasons as well took another job. And I brought literally all the same things I was overdoing in the other job, I brought that into this job, which is probably why they gave him the job. They're like, "Oh, that's a girl who will do too much." (Stacy: Yeah) And, and, and I overdid it there. And I was like, "Oh my God, here I am, again. Here I am, again, in this situation." And you can get so mad at yourself, or you can actually recognize the patterns. And then you can you can go, "Okay, well, now I know like, every time I'm here, this is how I go." So I definitely, like it's no longer a hypothesis. It's a fact. So I can make these changes. And I think that I think that's really important for people to hear from, from people like yourself who like had like, have had these crazy transformations and are doing what they love. They sometimes people think, oh, they went from A to B to rock bottom to D. And now they're like living their best life. And you had to go from A to B to A to B, a couple times before you could do that. And I think that, that allows you to really understand the pitfalls and the problems and like see, like, "Oh, this is the missing link here." And this is the thing that everyone needs, so they can actually do the thing that they want to do and not just keep going back in that vicious cycle.
Stacy McAlpine
Absolutely. And the thing about that is, you know, Steve Jobs said, you can't connect the dots looking forward, you can only connect the dots looking backwards. I'm like, "That makes no sense. Like, why does that make any sense?" He said like connecting the dots? Right. How do you look backwards and connect? And then I thought, well, "He's really smart." So there must be something to what he's saying. So reflecting on it, it's like, well, you're having all of these experiences in life, right? It kind of comes back to you got yourself into it, how do you get yourself out of it. But there are things in those scenarios, like in those miserable experiences, or just skills that you're learning along the way that when you start to look backwards, like, "Oh my gosh, that was why that happened." Or if I didn't have that 32 years ago, and then I didn't have this like 20 years ago, and then fast forward another 10. And now where I'm at, I wouldn't have the ability to have the scope of experience to help other people. I just wouldn't. (Lesley: Yeah) There's, you know, I could have some of it and you don't have to know everybody's life. But to know what pain is, like to know what it feels like when you can't think past the next second without wanting to feel like a pile on the floor. You know and to know how to get out of it, and how to put things in place so you don't need to be a pile on the floor before you take the next step.
Lesley Logan
Yeah, you can, you can take it sooner. (Stacy: Yeah) I will and I think that's so true. I mean, like I have so I like I coach a lot of Pilates instructors and talk a lot fitness instructors and it works well because I've been in their shoes so when they say that their client who they see four times a week just told me her me gone for three weeks I know how much money that hurts. That's not like their friend or even another coach will be like, "Okay, so you have extra four hours a week." Like it's like no actually they don't have another client to slip in that person's been holding those four hours hostage for this long and they have to like come up with a new client overnight who wants that much. So it's important I think our experience is sometimes we go, "Why is this happening to me?" And it's like it's actually happening for you because what all that happened for you, all those snotty tears in the car happened for you so that you can actually understand on a very like deep cellular level when someone says like the music in the car is playing and I don't even hear it. Like I that's where I'm at and you can be like, "Oh actually I know how down the rabbit hole. I know how far you are. I know how close you are on the bathroom floor. Let's let's make these changes now." (Stacy: Yeah, exactly.) you know I think it's so I think it's it's so cool that you've like put yourself in this position of like of like taking the actual applying the actual self development into our lives. Because I do think that that is where people just become like the self development junkies they like I (Stacy: Yeah) I listen to a lot of podcasts and like it's so easy for me to like hear podcast about this and boundaries and this and boundaries and I'm like okay, but I gotta now have that conversation about boundaries. How do I how do I do that? So I think the world needs someone who can like apply it. So you when you when you start to like apply these product management tools in a things to adding the supplemental change they want to do to their life now is this something that has a pin on the thing that they want to do. How quickly can they add these things and is it really a month long like setup before they can … What what's what's that process like because my perfectionist want to know? What's the timeline?
Stacy McAlpine
I know. Right. How do I get this to happen right right now? So well and just as a you know background so I call my company Journey Fuel because like the journey right but and the idea of strategic planning and goals and measures just makes me want to like to grow up like I'm so sick of those, like, that's such a stressful set of terms. So I've changed the whole into different words, same concept because they work, but it's like how do you associate the process to be enjoyable? Like you're on a journey to find your authentic, amazing life. And that's to be enjoyable. So it doesn't just like some project where you're going to come up with these measures and these goals, like what is it that in you that you want, that's going to magnetize you forward versus having to push this rock up a hill is what most of it feels like. So what I do, my very first step is what program I call Walk-The-Talk Weekend, two and a half days, I just had one and another one coming up. And it's two and a half days. And we go through first day is how to just get the snow to settle and the snow globe, right, like you see shake is and it's like, just (Lesley: Yeah) snow settle. Let's just get that to stop. And then how do you get clarity on what you want your life to be like? And the very first thing and you guys can all do this right now. So you can start today, which is you know, life is a collection of feelings. That's it. That's it. Like we're here to experience, feelings. That's all there is. So all the stuff, all the people, all the things that we're dreaming and wishing for. That's all to feel some way. (Lesley: Yeah.) So when you get to if you start there versus what do you want? Like, what are your goals? What's your purpose? Like it's just, like, for me, I just, it paralyzes a lot of people. So I knew that I would do it. Thanks. Hot tip. (Lesley: Yeah) And plus your brain is so crazy how to even connect, you know, I couldn't connect to that music like I just wouldn't. (Lesley: Yeah) And so when you're in a space like that, the best place that and this is why I start all my programs this way is how are you feeling now? Why? How do you want to feel instead? And what do you want that life experience to feel like? Then we on that first day do some visualizations, different techniques that I use that incorporate the practices without it feeling like I'm doing some business thing, like it's all very fun and engaging. And it what ends up doing is it gets you into a space where you can start to use your feelings to guide what comes next. And then we do things like well, what's in your life when you feel that way? Then start to find the themes in that. And that becomes day two, where we're really looking at what can let's should test that. Like, do you just want it because you're supposed to want it?
Lesley Logan
Oh, I love. I should test. Yeah, I think I should do that. Yeah.
Stacy McAlpine
Yeah. Should test. And so is that for real? Like, is that coming from you? Or is that coming from your experience of other things that have gotten you there? Right. So we do, we should test in core, get it down to core seven, like seven things that you value most by going through that process? And then now that you know what your core seven are your things that matter? Most you can do what I was sharing earlier is like now you have a litmus test that went on day three, we talk about tools and techniques. And well, how do you live those seven and nothing else? How, what are the tools and techniques you can use? And it really comes down to listening, you know, every single decision I make and everything that goes on what people call it to do lists that I call a playlist? Is does it line up with one of my seven yes or no? And if it doesn't, I don't do it. And if I can't not do it, then the next question is, well, why am I doing it? What in my life is keeping me that I think I need to do this? What's happening? Where's that coming from? And you can use that to just start asking questions till you can filter that out. Right. (Lesley: Yeah) … that out of your life. But now you are aware that this is here, it's not part of my core seven, how do I get shift my life and I teach a bunch of different techniques on how to do that. So two and a half days, you go from crazy snowglobe head to knowing exactly what your core seven or how to make a decision that's going to keep you in alignment and bring that experience of feelings and life to life. (Lesley: Yeah) And then the next step is my accelerator program which I actually broke into an eight week program where you now take that and now I help you step through, "Okay, now let's like activate that and and look at your life as a whole and by the end of the eight weeks, help you build the capacity for change …"
Lesley Logan
So that's nice because it's like it's not like we're not doing a one hour and we're not doing it in three weeks. It's like you (Stacy: Right) there's there's enough time in there to make mistakes, make tweaks, make changes and they can implementation. That's really that's really cool to know. Because I think I think sometimes we think it needs to happen tomorrow and we'd like it to (Stacy: Yeah) happen tomorrow. But there's a lot of unraveling that has to happen and some clarity that has to get in there. So this is so cool. I thank you for sharing this amazing journey that you've gone on because it's so it's always good to hear the behind the scenes and like, what was the what, what brought them to being where they are, where they just seem like, it's all amazing, it just it is, but they're that doesn't mean it was always. So it's so good to hear that like you are a human being. (Stacy: Yeah. Exactly.) And then you can use, you've like use what, what you were doing before but for for more impact and also so that you can also walk your talk, which is a lovely. Stacy, we're gonna take a quick break, and then everyone we're going to find out her BE IT action items for you and where you can find her and work with her. Okay, Stacy, where do you like to hang out? What social media platform? What's your website? Where can people find you and work with you?
Stacy McAlpine
So the best way to find out about what I'm doing is to go to journeyfuelgift.com, g i f t.com. Because part of where, you know, coming on here to your point of like saying a bunch of things, but not how to do it. I'm all about how to do it. So when you go to journeyfuelgift.com. I have a gift for your audience that you can sign up for my next slot, Walk-The-Talk Weekend for free. And you can also sign up for a lot of times, I have these 90 minute but I call find your fire within sessions, where if you, you know, you're not ready for two and a half days, you just come to a 90 minute, find your fire within, get yourself started, get your soul back and alive. And you can get to that on that link as well. So when you go to that link, you can sign up for those two things. That's the absolute best way because then you're doing something for yourself and not just learning about me. (Lesley: Yeah) If you do, just want to know about a little bit more you the @yourjourneyfuel on Facebook, or Instagram. And you can find out what I'm doing from there. That's an it'll direct you to where my website is and stuff. But I encourage you to act in for yourself and take an action of do the 90 minute thing. Do the Walk-The-Talk Weekend. It's two and a half days of your miserable life. Right.
Lesley Logan
Yeah. You put it like that, it's like yeah, it's only you can keep going. Or you can take two and a half days off. But you're not wanting. Oh, I love that. Okay, you've given us some great questions, some great tips already. But for the people who like skip to the end, they just want the action item. Bold, executable, intrinsic or targeted steps people can take to be it till they see it. What do you have for us?
Stacy McAlpine
Number one thing you can do is something we all have accessible, which is our feelings, which isn't something that we're generally taught to use as a way of navigating. But they're there for a reason. And so if you're having a feeling you don't like, you know, stop, think about okay, where's this coming from? And how do I want to feel instead? And what are three different things or if you can only come up with one but usually there's at least three things you can do to get closer to feeling that way. So even if it's the tiniest step, right. So let's say you're super overwhelmed, and you want to feel peaceful, like what's one baby step that you can take, that'll get you closer to feeling peaceful because the more baby steps you take, the more capacity you have to think bigger and to do bigger things. But until then, it's just getting yourself to where you have the ability to do it right to give yourself something achievable, that you can succeed in. So how are you feeling? How do you want to feel instead? What's one thing you can do to get closer to that? And it will change your life. I guarantee you.
Lesley Logan
It will. Y'all I've done things like that. And it's like, it's like even sometimes it's like, I gotta go clean the kitchen right now. And I'm like, that's not gonna be fun. So I'm going to turn on some rap music and make it fun so that it feels like I'm having fun while I load that dishwasher. Stacy, (Stacy: Right) thank you so much for your amazing story and for your amazing tips. I really, I know these are going to be super helpful for our listeners. Be It listeners, how are you? Thank you so much for listening. How you gonna use these in your life. Let us know tag Stacy, tag the @be_it_pod. We'll have all those links in the show notes so you can take advantage of her free gift as well. And then share this with a friend because that is also how it is so much easier to be the person you want to be when the people around you are doing that as well. So make sure you let us know what your takeaways are. And until next time, Be It Till You See It.
—
Lesley Logan
That's all I've got for this episode of the Be It Till You See It podcast. One thing that would help both myself and future listeners is for you to rate this show and leave a review. And, follow or subscribe for free wherever you listen to podcasts. Also, make sure to introduce yourself over on IG at the @be_it_pod on Instagram. I would love to know more about you. Share this episode with whoever you think needs to hear it. Help us help others to BE IT TILL YOU SEE IT. Have an awesome day!
—
Lesley Logan
Be It Till You See It is a production of Bloom Podcast Network.
Brad Crowell
It's written, produced, filmed and recorded by your host Lesley Logan. And me Brad Crowell. Our associate producer is Amanda Frattarelli.
Lesley Logan
Kevin Perez at Disenyo handles all of our audio editing.
Brad Crowell
Our theme music is by Ali at APEX Production Music. And our branding by designer and artist, Gianfranco Cioffi.
Lesley Logan
Special thanks to our designer Mesh Herico for creating all of our visuals, (which you can't see because this is a podcast) and our digital producer, Jay Pedroso for editing all the video each week, so you can.
Brad Crowell
And to Angelina Herico for transcribing each episode, so you can find it on our website. And finally to Meridith Crowell for keeping us all on point and on time.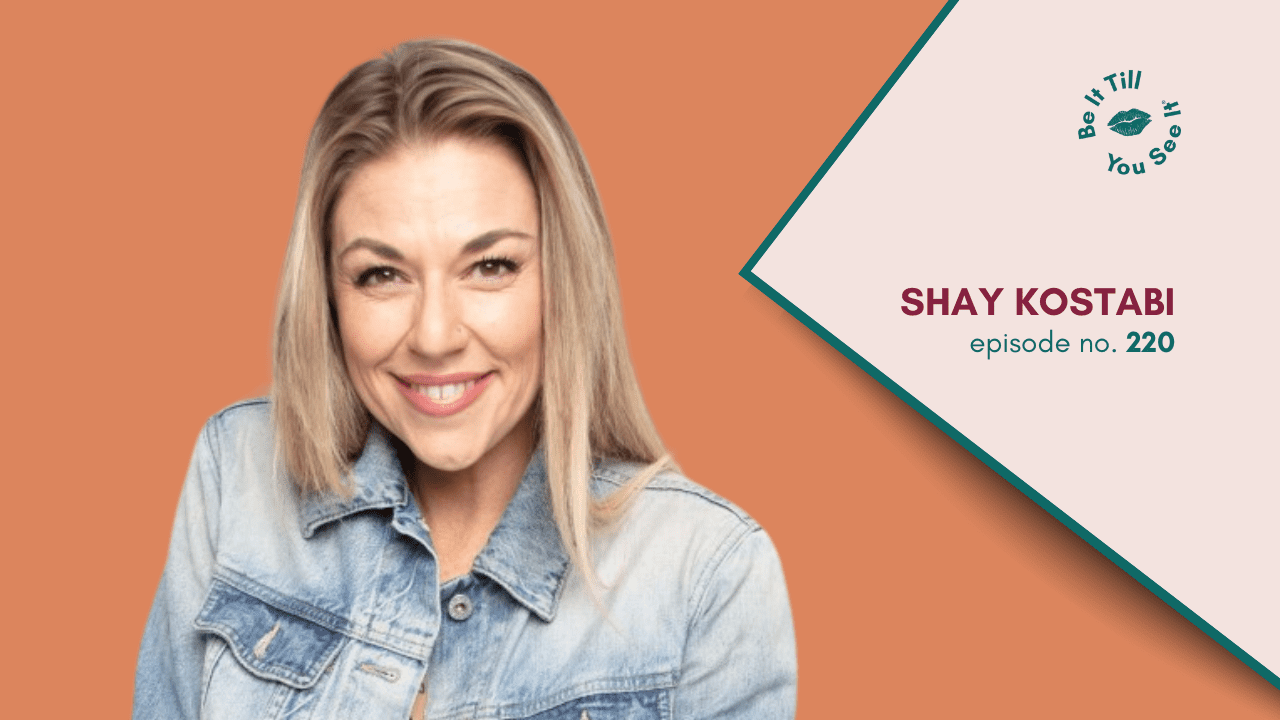 In this insightful episode, Shay unravels the importance of consistency and persona development, and brand building. She delves into the concept of flow states, showcasing its essential role in cra...